Warren Central High School
Class Of 1978
In Memory
Jerry Pippin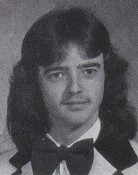 I just found out Jerry Pipin passed away. Some of you may have already heard about this since it was in 2015. Jerry will be missed by all.
Here is the obituray;
Jerry Pippin, 55, of Bowling Green, died Aug. 20, 2015, at his residence. He was the son of the late McCallister and Inez Pippin. Mr. Pippin was preceded in death by one brother, Donald Pippin.
Survivors include two sons, Josh and Jake Pippin; one grandson; a sister, Wanda (David) Powell; a brother, Darrell Pippin; and several nieces and nephews, all of Warren County.